New History Hoydens post up! The 1808 Stronsay sea monster, which washed up on the beach in Orkney. Eyewitness testimony, snobbery, cryptozoology, and Lord Byron!
New History Hoydens post up! I bought an engraving of the burning of the Barrière de la Conférence at a flea market yesterday, and I talk about the history of the engraving and the burning of the Paris Customs Houses on the first day of the French Revolution!
New History Hoydens post up, about the history of sightings of murder victims. Cool stuff! Apparently the idea was taken so seriously through the first part of the eighteenth century that a ghost sighting of someone could be enough to open a murder investigation without any other reason for suspicion!
ETA: This contest is closed. The winner is Justine!
I'm giving away a copy of Wild Ride by Jennifer Crusie and Bob Mayer, signed by Jenny Crusie. She is one of my absolute idols and I'm so excited to have met her and be able to do this!
This one isn't a romance, although both main characters do have romance subplots–it's a found family story, which I love just as much! The main characters are Mab, restorer of old amusement parks and carnival art (and isn't that a cool job?) and Ethan, an ex-Special Forces guy whose family has traditionally guarded the demons held prisoner in their old amusement park.
Here's what I said about this book in my Goodreads review:
I knew in advance that I would love this book because it was by Jennifer Crusie and Bob Mayer and because it was about an amusement park that is also a demon prison.
I adored every character, and the plot was fabulous. I especially loved the way the portrayal of demons started out very black/white, good/evil, and then grew more nuanced. (This is what I wanted so badly to see on Buffy and never did–yes, we got demon and vampire characters who were obviously not evil, or not more evil than humans anyway, but the ideology never changed from "stake them on sight, they HAVE NO SOUL!")
I think my favorite character was Cindy, the ice-cream maker. I loved her ice cream and how her subconscious manifests as dragons and how when the demons were acting out everyone's worst fear, they chanted at her "Hungry, hungry, can't feed us!" What can I say, I'm a cook.
Plus, I loved the recurring theme of the fortune "He loves you as much as he can, but he cannot love you very much," because my mom actually got that fortune one time.
Just comment on this post to enter, and make sure you enter your e-mail address on the comment form–it won't show up to other commenters, but I'll get it and then I can easily notify you of your win. As always, if you want to be alerted when a new contest goes up, I recommend signing up for my newsletter.
NB: this is a copy I got signed at the RWA National Conference. Ms. Crusie isn't involved in the giveaway and the book isn't personalized. So if you want to tell her how much you loved her book, this isn't the place. That would be her website. (But this IS the place to tell ME how much you loved it!)
SPOILER ALERT
So…it's being confirmed all over the internet that Benedict Cumberbatch's role in the new Star Trek movie is…
Khan.
There are no words for how angry I am. Why would you give one of the most iconic roles in Star Trek, a major role for an actor of color, to a white person? Why?
Not only is this gross on its own, but it goes against everything original Trek was about, everything it means and stands for.
I just…I guess it's not officially confirmed yet and until then I will hold out hope it's not true, but several different sources seem pretty sure. I am crossing EVERY PART OF MY BODY right now.
I'm sure there will be all kinds of amazing essays about this soon that will express how I feel better than I can, but in the meantime, here are two articles I've linked to before.
This one is about Uhura in the new Star Trek movie. I've always found it really, really difficult to describe or articulate how this invisibility feels, how it affects you and the way that you view and experience media. I remember someone posted a one page article or somesuch wherein all of the actors in STXI had just one little soundbyte type quotation about their character and their feelings about the original version. John Cho's was him noting that his reaction to Sulu was essentially: "OMG AN ASIAN GUY IS ON TV."
This one is a moving essay about the Earthsea trilogy and how it felt to the author to finally read a fantasy story with characters of color in it. Seriously, read this. I cried. But I remember Dad saying, how come you never see anybody like that in the stories you like? And I remember answering, maybe they didn't have black people back then. He said there's always been black people. I said but black people can't be wizards and space people and they can't fight evil, so they can't be in the story.
Remember that story about how Whoopi Goldberg saw Uhura on TV and told her mom, "I just saw a black woman on television; and she ain't no maid!", and how that empowered her to believe she could be a successful actress?
It makes me miserable to think that little kids watching the new movie will get the opposite message: You can't do this. No one wants to see your face or hear your voice.
New History Hoydens post up! The Very Bloody History of the Hawkhurst Gang of smugglers (no relation to Adrian!), including a pitched battle with a village, a raid on a Customs House, and some good old-fashioned torture and murders.
History Hoydens post up about my trip to Mystic CT (a historic shipbuilding and whaling town). I discuss (inter alia) precision craftsmanship, eccentric billionaires, and my addiction to research books…
I was walking past the 5th Avenue Public Library when I saw a sign for their temporary exhibit: "Shelley's Ghost: the Afterlife of a Poet." Shelley's posthumous reputation is very interesting to me because to us, he's such a huge part of the Romantic poetry movement, but his poetry was almost unknown in his own time.
I read once that in England, Shelley was more famous for his atheism than for his poetry, and that in the mid-Victorian years when some Oxford students were getting up an informal debate about his merits, many of their teachers had never heard of him and thought there must be a mistake in the name.
That didn't turn out to be a focus of the exhibit, though. It was mostly manuscripts and first editions of Shelley and people who knew him. I have to admit, I was a little disappointed. But I saw the manuscript of Frankenstein! And two heartbreaking notes Mary Wollstonecraft wrote to Godwin in childbirth, assuring him she would be fine.
Some thoughts:
1. In theatrical posters and reviews of Frankenstein, the Creature was referred to using dashes or dots: "The Role of (***) by So-and-So."
2. Whoever wrote the placards for the exhibit hated Godwin. Just hated him. Constantly referenced how he asked Shelley for money and criticized him for making some snarky comments about Shelley in a draft of a letter to his daughter which he then cut out of the final version.
If I were Godwin and my married student in his twenties abandoned his pregnant wife to run away with my sixteen-year-old daughter, taking one of my other teenaged daughters with them, I wouldn't be best pleased either! I mean look, I'm very fond of Shelley myself, but that doesn't mean no one can criticize his behavior.
3. Placard Writer was really, really indulgent towards both Shelley and Byron, though. The placard on Claire Clairmont read something like this: "Byron had many ardent fans. Claire Clairmont was one of those who seduced him."
Now, I have no wish to deprive Claire of her sexual agency, and good on her for making the first move if indeed she did, but I think that's a pretty ballsy statement considering that she was 16 and he was 26. I also think it's rude and misogynistic to make her sound like a predatory fangirl.
4. In the section about Shelley's death and Mary Shelley's journals, P.W. made sure to tell me that maybe Mary Shelley didn't always treat Shelley right by choosing for the quoted passage: "Oh my beloved Shelley — It is not true that this heart was cold to thee."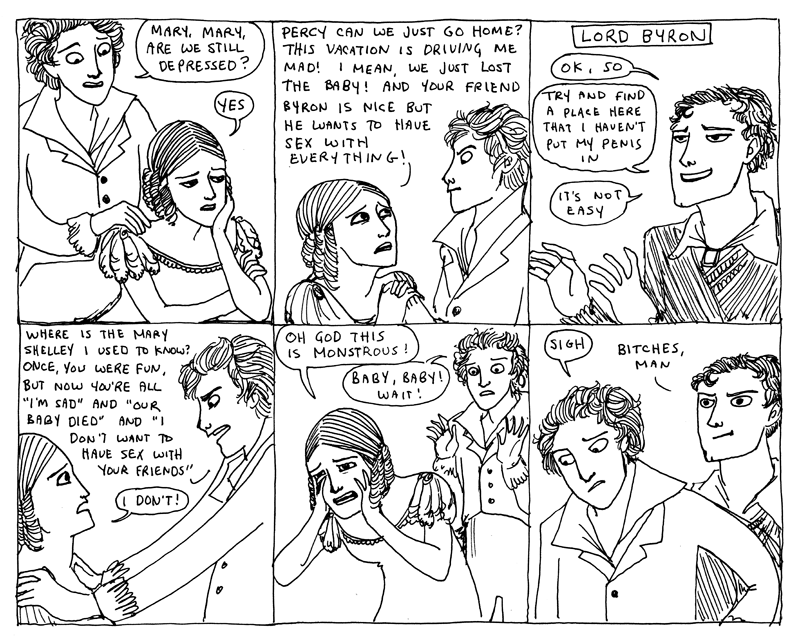 5. P.W. quotes a letter Shelley wrote about Byron, describing it as "prejudiced":
"He associates with wretches[...]who do not scruple to avow practices, which are not only not named, but I believe seldom even conceived in England."
I'm pretty sure it didn't give any more context than that! If I hadn't already known that it was a homophobic reference and that it originally read "wretches who seem almost to have lost the gait and physiognomy of man" I would have thought maybe Byron was going to BDSM clubs. I can't help feeling they cut out the really awful part of the remark to make Shelley look better. Or else gayness is just too shocking to be mentioned in a library.
6. Shelley edited Frankenstein before its publication. I would not want my husband editing my work, but I guess they had a really close relationship. Anyway, on the pages on display, he changed "handsome" to "beautiful" and added in that the Creature had "hair of a lustrous black."
7. His only poem that was available in England during his life was "Queen Mab," which was passed around by radicals in pirated editions. I'll have to read it!
8. His family called him by his middle name, "Bysshe," which (I never realized) was pronounced "Bish." Yes. Shelley went by "Bish." So adorkable!
9. The "Life" heading in his Wikipedia entry has the subheadings:
1.1 Education
1.2 Marriage
1.3 Byron
1.4 Two suicides and a second marriage
1.5 Italy
1.6 Death
…
Today went to the local used bookstore in my uncle's town. The bookstore has two parts–the regular second-hand bookstore and a rare bookroom across the street. Today the rare bookroom had two Rowlandson prints! I couldn't tell if they were original, but one of them was priced at $250 so maybe. My uncle said they make a lot of their money in lending out old books for movie sets–if you need 200 feet of matching bindings, they are your guys. Neat! I bought:
Many Thousands Gone: the First Two Centuries of Slavery in North America by Ira Berlin
Ladies of the Grand Tour: British Women in Pursuit of Enlightenment and Adventure in Eighteenth-Century Europe by Brian Nolan, which I think is going to be a little too exceptionalist, but maybe that was just the back-cover copy writer: "According to the 1747 publication The Art of Governing a Wife, women in Georgian England were to 'lay up and save, look to the house; talk to few and take of all within.' However, some women broke from these directives and took up the distinctly male privilege of traveling to the Continent to develop mind, spirit, and body." I just feel there's a way to talk about restrictions on women without (a) overgeneralizing and (b) making women who follow those restrictions sound like their lives are meaningless wastes.
The Diary of a Napoleonic Foot Soldier by Jakob Walter
Boredom: the Literary History of a State of Mind by Patricia Meyer Spacks. This one looks really cool, it's about how before the 18th century, boredom was a personal failing: if you're bored, you aren't working hard enough. But later that became complicated. It also talks about how boredom was gendered and women's lives were equated with boredom in both feminist ("It's not fair women can't do more interesting things") and misogynistic ("Women are so flighty and easily bored and also reading novels has made them impatient of real life") ways.
I also got an essay collection called Transforming a Rape Culture which may be outdated since it's from 1993…but sadly I'm guessing not TOO dated. Rape culture is something I've been thinking about a lot recently, especially because it's important to Sweet Disorder and possibly to my next book as well, so I think it's time for some reading.
It's research time again! I'm still revising Sweet Disorder, but I'm researching my next project too. It's tentatively titled "The Spare Heir" and takes place in Orkney! You might remember my trip to Orkney a couple years ago and how I fell madly in love with it.
I was originally planning to set this book in Cornwall, but as soon as I started thinking about Orkney, it just felt right. It'll make the research harder, I think, but luckily my friend whom I was visiting works for Historic Scotland and might be able to help me out with contacts. The heroine is a governess and the hero is a revenue officer, and I've got two villains: the tyrannical local laird (the heroine's employer and the hero's biological father) and a ghost. Yes, a ghost. I know it's a little different from my previous books but I'm really excited about it!
I'll be posting a lot more about my research for that soon, but right now, I'm excited about my haul from the library book sale! I got:
Rites of Peace: the Fall of Napoleon and the Congress of Vienna by Adam Zamoyski
The Exchange Artist: a Tale of High-Flying Speculation and America's First Banking Collapse by Jane Kamensky (the collapse was 1809)
Daumier: 120 Great Lithographs (I LOVE Daumier)
Mob Girl: A Woman's Life in the Underworld by Teresa Carpenter, about a woman who was involved with many important mafiosos and became an FBI informer
Mrs. Adams in Winter: A Journey in the Last Days of Napoleon by Michael O'Brien, about Louisa Adams (JQ Adams's wife) traveling from St. Petersburg to France in early 1815
Rogues' Gallery: A Secret History of the Moguls and the Money that Made the Metropolitan Museum by Michael Gross (this book gets about 200 points right off the bat for that title)
Scots Cooking: the best traditional and contemporary Scottish recipes by Sue Lawrence
A great haul, amirite?
What's the best nonfiction book you've read recently? Anything amazing on your nonfiction TBR pile?