Archive for the 'other people's books' Category
Today went to the local used bookstore in my uncle's town. The bookstore has two parts–the regular second-hand bookstore and a rare bookroom across the street. Today the rare bookroom had two Rowlandson prints! I couldn't tell if they were original, but one of them was priced at $250 so maybe. My uncle said they make a lot of their money in lending out old books for movie sets–if you need 200 feet of matching bindings, they are your guys. Neat! I bought:
Many Thousands Gone: the First Two Centuries of Slavery in North America by Ira Berlin
Ladies of the Grand Tour: British Women in Pursuit of Enlightenment and Adventure in Eighteenth-Century Europe by Brian Nolan, which I think is going to be a little too exceptionalist, but maybe that was just the back-cover copy writer: "According to the 1747 publication The Art of Governing a Wife, women in Georgian England were to 'lay up and save, look to the house; talk to few and take of all within.' However, some women broke from these directives and took up the distinctly male privilege of traveling to the Continent to develop mind, spirit, and body." I just feel there's a way to talk about restrictions on women without (a) overgeneralizing and (b) making women who follow those restrictions sound like their lives are meaningless wastes.
The Diary of a Napoleonic Foot Soldier by Jakob Walter
Boredom: the Literary History of a State of Mind by Patricia Meyer Spacks. This one looks really cool, it's about how before the 18th century, boredom was a personal failing: if you're bored, you aren't working hard enough. But later that became complicated. It also talks about how boredom was gendered and women's lives were equated with boredom in both feminist ("It's not fair women can't do more interesting things") and misogynistic ("Women are so flighty and easily bored and also reading novels has made them impatient of real life") ways.
I also got an essay collection called Transforming a Rape Culture which may be outdated since it's from 1993…but sadly I'm guessing not TOO dated. Rape culture is something I've been thinking about a lot recently, especially because it's important to Sweet Disorder and possibly to my next book as well, so I think it's time for some reading.
This contest is now closed. The winner is Kim!
I'm giving away a signed copy of Smart Bitch Sarah Wendell's Everything I Know About Love, I Learned From Romance Novels!
This book is exactly what the title says–it talks about what romances have to teach us about love, and not just in the abstract. Sarah has brilliantly edited together hundreds of quotes from romance writers and readers into a hilarious and touching (I cried a few times, not gonna lie) celebration of reading romance and the community of romance readers. Reading this book brought home for me how proud I am to be part of this community, and how much romances have given me throughout my life.
Smart Bitches was one of the first sites I regularly spent time on, when I was discovering the romance community. I'd been reading romances for years and years at that point, and even written one, but apart from one or two friends and my mom, I'd never known anyone else who did. And I was so thrilled to find out there were loads of us out there and that I could talk to them! (And that I wasn't the only one who didn't like "forced seductions"! Man, this was a long time ago.) So this book felt like coming full circle for me. Thank you Sarah and Candi for everything!
I've been posting some of my favorite quotes from the book over at my tumblr (and I still have plenty to go)…here's one of the best:
Reba, a fan of the genre, says that one thing she enjoys 'about romance novels is the [depiction of a] woman struggling for independence in a world that does not recognize her value. Historicals are especially good for this, but I think they only highlight things that women recognize exist to this day. To wit, even our literature is seen as "less than," despite strong writing, compelling storytelling, and regular inclusion of universal truths (or as universal as truths can get, anyway).'
Just comment on this post to enter, and make sure you enter your e-mail address–it won't show up to other commenters, but I'll get it and then I can easily notify you of your win. As always, if you want to be alerted when a new contest goes up, I recommend signing up for my newsletter.
NB: this is a copy I got signed at the RWA National Conference. Ms. Wendell isn't involved in the giveaway and the book isn't personalized. So if you want to tell her how much you loved her book, this isn't the place. That would be her website. (But this IS the place to tell ME how much you loved it!)
ETA: This contest is now closed. The winner is Elaine Carlini-Davis. Congratulations!
This month I'm giving away a signed copy of Joanna Bourne's The Spymaster's Lady!
It's the first book in her amazing Spymaster series, not to mention the first appearance of Adrian "my boyfriend" Hawker. I cannot possibly do the brilliance of Bourne's prose justice, but here's the gushing Smart Bitches review, which is how I first heard about the book when it came out.
Just comment on this post to enter, and make sure you enter your e-mail address–it shouldn't show up to other commenters, but I'll get it and then I can easily notify you of your win. As always, if you want to be alerted when a new contest goes up, I recommend signing up for my newsletter.
Oh, and something I wanted to clarify from last time–this is a copy I got signed at the RWA National Conference. Ms. Bourne isn't involved in the giveaway and the book isn't personalized. So if you want to tell her how much you loved her book, this isn't the place. That would be her website. (But this IS the place to tell ME how much you loved it!)
When I was visiting my uncle in Hastings-on-Hudson, he took me to a wonderful local bookstore (Riverrun Books, with a rare bookroom and a secondhand bookshop across the street from each other–I've never spent much time in the rare bookroom since it's a bit beyond my means, but it looks amazing) and bought me some books for my birthday. I got two books about the history of English furniture, a cookbook, a book to teach me how to dress like a gentleman (which has already given me and my roommate hours of entertainment), an old pulp paperback mystery, and Sporting Art in Eighteenth Century England: A Social and Political History.
Listen to this:
[WARNING: the following paragraph contains a description of animal cruelty.]
"Meanwhile, the critical acclaim [Gilpin] initially received for his 'Death of the Fox' was sadly negated by the patron's public announcement that, far from being a work of elevated imagination, the picture was in fact painted directly from nature–with carefully arranged dead dogs pinned into place as models."
By the way, I got a tumblr! If you have one let me know so I can follow you! I am mostly using mine to reblog pictures of James McAvoy at the moment, but can you blame me?
I finished The Big Con by David Maurer, the book I was talking about in my last post. Look at these entries from the glossary:
The countess: Mrs. Maurer. Also the Raggle.
How sweet is that?? ("Raggle" is later defined as "an attractive young girl.")
There was also this which, as a word origin geek, I thought was cool:
Gun moll. A thief-girl, especially a female pickpocket. The term has no connection with guns or with killing–as is sometimes suggested in the newspapers–but comes from Yiddish gonif, thief.
I'm currently reading a reprint of David Maurer's 1940 The Big Con: The Story of the Confidence Man
. It's totally fascinating; among other things, I had no idea how much the glamorous conmen of the first half of the 20th century relied on payoffs to crooked police and local political systems for protection from prosecution. (Am I naïve for thinking that sort of thing is no longer very common? Maybe.)
Anyway, here's a tidbit I just had to share:
Indiana Harry, the Hashhouse Kid, Scotty, and Hoosier Harry [RL's note: apparently a disproportionate amount of top conmen have been from Indiana] were returning to America on the Titanic when it sank. They were all saved. After the rescue, they not only put in maximum claims for lost baggage, but collected the names of dead passengers for their friends, so that they too could put in claims.
And here's something I can't help finding pretty romantic:
Once Jerry Daley made a little side trip to La Salle, Illinois. To kill time there he dropped in on a beauty contest. There on the platform was a little raven-haired Irish girl who immediately caught his fancy. He began to circulate about the crowd and sound out sentiment for her. She didn't seem to be very popular. The fact that the odds were against her aroused Jerry's sporting blood to the extent that he began to buy votes for her. Whenever he encountered opposition he called into play all his ability as a fixer [someone in charge of bribes to police, politicians, etc.] with excellent success. When all the votes were counted afterward, his little protégée led by an overwhelming number. That night Jerry married her.
That really shouldn't be so cute.
Any other con artist fans out there? Welcome to Temptation and Faking It are two of my all-time favorite romances, and I'd love recommendations for more con-themed stories!
I posted last week about my critique partner Susanna Fraser's new release, A Marriage of Inconvenience, and how fabulous it is (as is her first book, The Sergeant's Lady, which just happens to be on sale for half-price from Carina this month!). This week we are lucky enough to be a stop on her blog tour.
Lucy Jones is a nobody. As an orphan she was reluctantly taken in by her wealthy relatives, the Arringtons, on the condition that she be silent and obedient, always. When her lifelong infatuation with her cousin Sebastian is rewarded by a proposal of marriage, she's happy and grateful, even though the family finds excuses to keep the engagement a secret.
James Wright-Gordon has always had the benefits of money and a high station in society, but he is no snob. He's very close to his sister, Anna, who quickly falls for the dashing Sebastian when the families are brought together at a wedding party. Meanwhile, James is struck by Lucy's quiet intelligence, and drawn to her despite their different circumstances in life.
Lucy suspects that Sebastian has fallen for Anna, but before she can set him free, a terrible secret is revealed that shakes both families. Will James come to her rescue—or abandon her to poverty?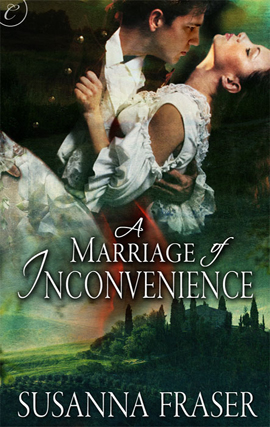 It's no secret that I am head-over-heels for James, so I'm afraid these questions focus unfairly on him, but Lucy is great too, I promise!
Q: James Wright-Gordon, the hero of A Marriage of Inconvenience, isn't short, but he isn't the tallest hero in the room either. And I bet that at this point in England's history, the short jokes about Napoleon were flying fast and thick. How does James feel about them, and how does he respond, if at all?
A: There's actually a point very early in the book where I describe the whole Gordon family as having a Napoleon complex, though of course I couldn't use those words. Instead I had James's sister Anna reflect, and James agree, that one reason their family might be so flashy and given to drawing attention to themselves is because they're short and feel the need to make a lot of noise to make sure no one overlooks them.
As for how James would respond to a short joke, it'd depend on who was making it, and if it was directed at him or not. He's confident enough to let 99% of such remarks roll off, but I can see him, under the right circumstances, saying something along the lines of, "Yeah, Lord TallGuy, I'm not much taller than Napoleon, and yeah, I have all kinds of ideas for improving the world…isn't it a good thing England is in good enough shape that I don't feel the need to try to take over for her own good? Now, about your vote on this week's bill…."
Q: A Marriage of Inconvenience is a retelling of Mansfield Park. If you were going to retell Sense and Sensibility, how would you do it?
A: Ooh, interesting question. The first big change I made to MP's plot in developing AMOI was to make James, the Henry Crawford equivalent, the hero. Which wasn't that hard, because every time I re-read MP I feel like Henry is pushed kicking and screaming into adultery so Fanny will have an iron-clad reason to reject him and Edmund will have to cut all connection with the Crawfords despite his ongoing fascination with Mary. It's almost as if Henry is shouting to me from the text, "No, I mean it! I really am reformed! I love Fanny! Help! Get me a happy ending!"
S&S is tougher, because to me it's the least satisfying of Austen's books as a romance. Persuasion and Pride & Prejudice work perfectly on that level, and I think Henry and Catherine in Northanger Abbey are adorable. Fanny and Edmund in MP may be uptight and priggish, but they'll be happy prigs together, and Emma and Mr. Knightley work well enough that I can almost overlook the age difference. But with S&S, I feel like Elinor and Marianne deserve better men than they get. While Elinor has spine enough for two, I feel like she's always going to be pushing and managing for Edward, which hardly seems fair to her. Marianne ends up with a man who fell in love with her because she's so much like his tragic dead first love, and doesn't she deserve to be seen as her own unique self, and not some kind of ghost or revenant?
So, let's see, how would I do this? My Edward figure would marry Lucy Steele, and be more or less content with the arrangement. Edward needs to be managed and probably wouldn't much care WHO managed him in the long run, and Lucy would manage to insinuate herself into the Ferrars' good graces as Edward's wife just as well as she ultimately did as Robert's.
Then Colonel Brandon realizes it's time to move on from his youthful trauma, and what better way to do so than with a nice, level-headed woman like Elinor? As for Marianne, the one thing I wouldn't do is redeem Willoughby. I think Austen, and Elinor, had far more sympathy for the seduce-'em-and-leave-'em asshole than I can manage. No, I'd find a young officer, maybe one who comes to Col. Brandon for patronage and advice, someone dashing and handsome and romantic but also decent and honorable, for Marianne to have adventures with.
Look what you just did! In three paragraphs you took me from, "I don't see myself ever adapting S&S, really not my thing," to "Hey, what a cool idea! I should try that." [RL: Mwahahahahaha! Victory!]
Q: You actually wrote AMOI first, even though The Sergeant's Lady was published before it. Were you always planning to write Anna's book, or did that develop as you wrote? Is anyone else from AMOI going to get to be a hero(ine)?
A: No, I wasn't planning to write Anna's story when I started AMOI. Over the course of the story, she grew on me, and Sebastian turned out more evil than he'd been in my original germ of an idea. So I thought, "OK, he's a soldier. I'll kill him, and give her someone better. She'll have a whole army of better someones to choose from, and I love following the drum stories…"
As for other characters from AMOI, maybe. I've started Portia's story twice. I haven't gotten very far with it, but maybe I just haven't found the right hero and plot for her yet. And there are a few people mentioned in AMOI who don't get actual "screen time" I'd like to write about—Lucy's younger brother who goes to India, even though that'd mean writing post-1815, something I've always said I have no interest in doing, and also James's naval hero distant cousin. I know what happens to him, and it's great stuff, but I'd have to somehow get past the fact I'm Stephen Maturin-level clueless when it comes to ship matters to write it properly.
Q: When Wellington becomes prime minister, how will he and James get along? James is pretty active politically so they're bound to run into each other.
Yeah, they'd definitely meet. The House of Lords isn't that big a place, after all. I think they'd respect each other, because they're both perceptive enough to recognize brains and integrity even in someone on the opposite side of the aisle. They might even enjoy a certain degree of verbal fencing over issues. But they wouldn't be close, because they'd be mutually baffled over how such an intelligent, well-intentioned man could be so wrong-headed about everything.
Q. Team Hamilton or Team Jefferson?
A: Well, Hamilton is the hottest guy on our currency, if you ask me. [RL: Couldn't agree more!] But can I be on Team Franklin instead? Because I get the sense he'd be the most fun Founding Father to have a fling with, or just to hang out with at soirees talking about life, the universe, and everything. Or maybe Team Adams, because he seems to have been the best husband of the bunch.
Q: One thing I love about your books is how the secondary characters always seem like full people–what I mean is, I really believe that they think about things other than the hero and heroine, and that when they aren't on the page, they're living their own lives. Do you have any tips for writers on how you do that? And who's your favorite minor character in AMOI, Anna excluded?
A: Thanks! I always try to remember that everyone sees himself or herself as the hero of the story. If you could jump into the book and interview one of James and Lucy's housemaids, she'd probably say something about how they're a lovely couple and she hopes they'll be happy, but she'd mainly talk about what working for them means for her—how she's lucky to be in a place where his lordship doesn't molest the maids, and how nice it is to be working close to home so she can see her ailing father on her half-days, and how she hopes the second footman will kiss her again, but no more than that, mind, because she wouldn't want to get pregnant and lose her place, but maybe someday, if they save their money, he could open a pub and they could marry. And while I'm not writing her story, or even usually giving it much conscious thought, that awareness is always in the back of my mind. Her life intersects with the hero and heroine's, or she wouldn't be on the page, but she has her own agenda and dreams she's pursuing, always.
I think my favorite secondary character in AMOI other than Anna is James and Anna's uncle, the Earl of Dunmalcolm. He's a proud Scot, but he's also mellow and easygoing, with a good sense of humor. He's a lot like my dad and my uncles, really.
Q: What's something good about storytelling you learned from watching Joss Whedon, and something you learned to avoid?
A: The idea that every character in a book (movie, show, whatever) considers himself or herself the hero came from listening to the Firefly DVD commentary. Also, I like the way Joss tweaks genre expectations and try to bring at least a little of that to my work. And he writes characters who never stop fighting back even when everything looks hopeless, which I love.
On the avoid side, sometimes I think Joss is a little too trigger-happy with the character death. I can see his point that in his kind of story, no one is safe, and I don't like the opposite extreme, where an author gives you all kinds of warning that SOMEONE WILL DIE and it turns out to be the third cousin who barely has a line or someone who was just introduced in this book, seven books into the series. But I think there's a happy medium, one in which, say, Tara and Wash might still be alive. [RL: Okay, I agree with this more. Curse your sudden but inevitable betrayal, Joss Whedon!]
Q: What's your favorite romance of 2011 so far?
A: My dirty little secret is that I'm continually way behind on my TBR pile and I've barely read any romances published in 2011 yet, even though we're almost a third of the way through the year. But I really loved Bonnie Dee's Captive Bride, and I'm not just saying that to toot a fellow Carina author's horn. She paints a vivid portrait of an unusual setting (1870's San Francisco), with a strong, likeable hero and heroine I rooted for from their first appearances on the page, and makes me believe they could make a 19th century interracial marriage work. [RL: Wow, she really sold me on that one. ::adds to TBR pile:: You can read more about Captive Bride here at the Carina website.]
Q: I hear you're giving a workshop at the Emerald City Writers Conference. Tell me about it!
It's called "How to Write Like a Full-Time Writer When You Can't Quit Your Day Job," and it's about productivity strategies for the busy writer. I have a full-time job on top of my writing, and my husband has a full-time job and does some freelancing and teaches a class at UW one quarter per year. Oh, and we have a daughter in first grade. I recently joked that two-career couples were nothing, we're a FOUR-career couple. It's not easy. But the alternative is not writing, which is unacceptable.
Q: What are you working on now?
Two projects, neither of which is under contract anywhere, but here's hoping! The first is a short historical romance novella about a common soldier's widow in the Peninsular War who has to remarry quickly and how she and her new husband adjust to and come to love each other. The second is a historical fantasy, hopefully first of at least a trilogy, featuring a young woman whose unusual upbringing and paranormal abilities lead to her becoming the only woman officer in Wellington's army.
###
Susanna will be by to answer comments and give away a copy of AMOI to one lucky commenter!
My critique partner, Susanna Fraser, has a new book out today from Carina Press: A Marriage of Inconvenience!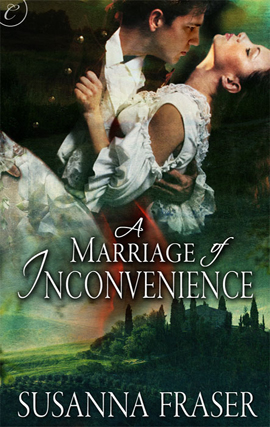 (She gets the best covers, seriously.) I read this book in critique group, and I can tell you that it's awesome. The hero in particular has one of the most charming narrative voices I've ever seen in a romance. (Lucy is great too! I just can't help loving James best.) It's a prequel to her first book, The Sergeant's Lady, a Peninsular War story that I believe is on sale this week if you haven't already read it!
Susanna is doing a blog tour, giving away copies of the book at most of the stops, and she will be here on my blog on April 19th! Last time she talked about Team Wellington vs. Team Napoleon, I can't wait to see what she comes up with this time.
First, exciting news: A Lily Among Thorns
is now available for pre-order at Amazon! The Kindle version doesn't seem to be up yet, but I'll let you know when it is.
I went and saw the new Jane Eyre movie with a couple of friends last night. Has anyone else seen it yet? I cannot recommend it enough. You know that movie that plays in your head when you read a book? It felt like they were filming directly from that. But then at the same time, it felt like I was reading the book for the first time, experiencing it in a whole new way and seeing things about it I never saw before.
And they captured exactly the right feeling between Jane and Mr. Rochester: that they're both kind of weird and intense and don't really tell each other very much, but they still somehow have this intense emotional connection.
I also love the lighting in the movie. You don't often get a sense in period films of just how dark it could be when flame was the only way of lighting a house. But in this movie, at nighttime, it was dark. Completely dark. The way that they filmed light and dark and fire, the way they filmed certain scenes like it was a horror movie (which it is, really, the Gothic novel is proto-horror, but you don't always see that in adaptations) added so perfectly to the sense of isolation and the menace of the unknown and hidden that is so important to the book.
Plus, the costumes were great. Sometimes I wish someone would do a Jane Eyre adaptation in Regency clothes, because that is when the book is set, but it's such a Victorian novel that I understand why they don't.
What's your favorite movie adaptation of a book? If you have a least favorite movie adaptation, I'd love to hear about that too!
Yesterday, I went to Emerald City ComiCon with some friends. I brought with me a friend's copy of Elektra & Wolverine: The Redeemer
to get it signed by the author, Greg Rucka. I had borrowed it after reading my friend's awesome review at favoritethingEVER.com, but never got around to reading it because my TBR pile constantly rages out of control.
Greg Rucka was incredibly nice and friendly and wrote "BELIEVE IN HER" in my friend's Wonder Woman comic. I was won over, and this morning I sat down and read the book. It's just as awesome as the review said, but I think the part I love the most was actually the author interview at the back of the book. It's about writing comics in an emotionally resonant way, but I think it applies to writing any genre fiction, including romance.
###
JL [Jennifer Lee]: Right. So how do you build the characters convincingly, especially in a story setting like modern New York, where there are constant signposts reminding you of the real world?
GR: It's a two-part answer, but the first part is that you have to be emotionally honest. I believe that all art lives or dies at its emotional connection with its audience. If the connection is not there it's worthless. For any story to work there has to be a level of connection. You have to be able to, if not sympathize, at least empathize with what is going on. And consequently you can take the most ridiculous character (and by ridiculous I meet unrealistic) and make it believable. Take Wolverine: If you look at him, on his face he's just ludicrous. He's a short little guy who now is apparently over 100 years old, who has claws that pop out of his body, which he can control and retract, and he smokes cigars, and he may have been a Canadian secret agent, and he's a samurai, and has a mutant healing factor… If you look at that from a realistic abstract sense, you go "Oh my god, what a load of garbage!" but everybody believes that he's been cold. Cold is something we've all felt. Everybody's been cold. Everybody's been lonely. Everybody's been lost. Almost everybody has felt love. Those are real things. Those are honest, true things. We all share them. So you take a character like Wolverine and you give him that. Kiefer insults him. We've all been insulted, and we all know that frustration of really wanting to belt someone in the mouth but not being able to. How many of us have had employers we've wanted to do that to, for instance? So, I really do think that that's the key. And if you do it right, you can, in theory, take any background, any story, and make it resonate.
Aside from the emotional connection, the other part is making it realistic is that I think you have to be unapologetic. Comics suffer from this a lot because comics, in many ways, is embarrassed of itself. There are lots of fans who have been looked at like "Oh, you're reading super heroes" and super heroes is so derogatory. In the narrative, it is really important to just be straightforward and honest. You don't nod and wink and go haha mutant healing factor hahaha. It's matter of fact. That's the nature of the world. The cab is yellow, the street is dirty, the sleet is cold, and the healing factor is active, and all of those go together. The narrative refuses to make them extraordinary outside the narrative. In that universe, that extraordinary event makes sense, so that the logic of the universe is consistent, and it maintains the realism of that world. And I think that's the key. It's not saying it's New York, but it's not really New York. We say this is New York. Take it or leave it, it's New York, and take it or leave it, the woman is a ninja. And if you don't like it, don't read it. But we're not going to sit there and apologize for it, and we're not going to say, okay this is where it gets cool. It just needs to be what it is. The characters are real in their world so the world needs to be real for those characters.
###
♥♥♥