Another quote from The Angel out of the House (p. 40):
"The figure of the 'old maid' attracted such opprobrium because, like the poor, she was both too dependent and too independent. Without adequate economic resources, unmarried women of almost all classes could drain the finances of their families or, in the case of spinsters of the lower classes, the parish ratepayers. If women were of age and not married, however, they were legally independent. Similarly, the laboring classes were also economically at risk and a burden because they were dependent on the resources of 'their betters'; Ogle recognized that it was often the lot of the poor to 'patiently submit to…Misery.' As the poor seemed to become more numerous and more destitute than ever before, the problems of dealing with poverty became more troublesome and received more attention, as the concern devoted to reforming the poor laws suggests. The laboring classes were also, though, as another philanthropic writer worried, more independent than ever before; the English common people, writes Josiah Tucker, 'having been growing up into Freedom for several Generations back, and are now become entirely independent, and Masters of themselves and their own Actions'–no longer subject to 'discipline.' Domestic ideology, however, made it possible to displace such concerns onto the figure of the 'old maid' or the prostitute, both of whose situations, like that of the poor, combined economic independence with a threatening legal independence."
Oh, and I did a little art project I'm rather proud of–if you like Remington Steele and Iron Man, check it out. What if Pepper Potts was a private investigator with an imaginary boss and Tony Stark was a charming, neurotic con artist looking to make a change?
[Content warning: discussion of sexism and rape.]
Well, it's been a while since I really posted anything here…I just got out of the habit while the blog was in maintenance, and now…I'm familiar with the phenomenon from my years on livejournal: the longer I don't post, the more of a curious resistance I build up to posting. It's partly that I start to feel like I can't post unless I've got something really special to say, but mostly it's just a mysterious reluctance that I can't adequately explain.
HOWEVER I have been reading lots of great research books and have built up a huge backlog of interesting and/or funny quotes to share with you, and so, here is the first of them, from Dorice William Elliott's The Angel out of the House: Philanthropy and Gender in Nineteenth-Century England
from an 1859 article in Fraser's Magazine, titled "A Fear for the Future, That Women Will Cease to be Womanly," talking about girls who are unsexed by their philanthropic work:
Any of my sons, I am quite sure, would as soon think of making love to Lord Brougham or the statue of Mr. Canning, as of uttering a word of anything sentimental to these ladies.
This is extra funny to me as I have a bit of a crush on Lord Brougham, a big-deal Whig politician and lawyer who, among other things, was Queen Caroline's attorney at her adultery trial and made a two-full-day opening statement described by Thomas Denman as "one of the most powerful orations that ever proceeded from human lips," by Charles Greville as the "most magnificent display of argument and oratory that has been heard in years[...E]ven his most violent opponents were struck with admiration and astonishment," and by William Vizard as "one of the most magnificent speeches ever made in this or any other country."

Henry Brougham, painted by Sir Thomas Lawrence, image courtesy of Wikipedia.
SUCH good eyebrows. And that nose! IJS probably that guy's sons DID think equally of both but that doesn't mean they weren't thinking! The statue of Lord Canning would probably be more difficult. Hard to get to, for one thing. But it has an unquestionably alluring tilt to the hips, wouldn't you say?
Photo by Runcorn at Wikipedia.
That "A Fear for the Future, That Women Will Cease to be Womanly," gives me a thought about all those 60s and 70s science fiction stories about a dystopian future where people no longer have sex. Why on earth would society evolve to do away with sex?
It always struck me as a completely random cultural panic with no obvious cause–unlike, say, the fear of nuclear-radiation-caused monsters, the fear of a future run by powerful corporations, or the fear that machines will revolt and make war on their former masters, which all have a clear emotional logic. The best I could come up with was that it was some kind of fear of a return to 1950s repression…but that doesn't quite mesh, does it? The dystopian futures portrayed rarely seem 50s-like (or Victorian, or puritanical, or religious, or…) at all: they're far more likely to be ultra-sanitary minimalist monochrome futures with unisex-coverall-type fashion.
Yet despite its strangeness, it was such a popular trope that Hugh Laurie, Emma Thompson, and Stephen Fry parodied it in their "Crystal Cube" pilot.
Do you think it could actually be a disguised fear of feminism? The idea being that when men no longer have power over women, women will no longer be safe/passive sexual objects, and therefore will either no longer be attractive to men or will no longer be willing to "provide" sex for them?
It certainly brings the "necessary" rape in Kurt Vonnegut's "Welcome to the Monkey House" (one of the most famous of the genre, not insignificantly originally published in "Playboy") into sudden sharp symbolic focus…
Wow. Eureka. Well, that's just depressing.
New History Hoydens post up about stealing real events for my fictional characters.
I had a vague recollection of this anecdote…he ran out of ale, so he opened up his expensive French brandy? I couldn't remember where I'd seen it, but I thought I might have posted it on my blog. After backreading for half an hour, I almost gave up. I don't need the real anecdote, I thought. It's fiction. Maybe I can improve on it, make it even better than the real thing.

Then I found the real thing. There is no improving on this. This is perfection. Unless it's apocryphal and someone's already improved on it! Who knows? Either way, I covet the glory of this anecdote for myself, and I will take it.
New History Hoydens post up about my upcoming book and women's pre-1832 electoral rights!
When the vote was based on a property qualification, women who owned qualifying property had an interest in the resulting vote!

It's not known (yet) if women ever voted directly, but Chalus writes: "Derek Hirst's work on the seventeenth century has revealed instances of women who believed that they had the right to vote in parliamentary elections, of candidates who tried to poll them, and of election officials who were ready to accept their votes…"
Exciting news!!! My agent and I just sold my next book, Sweet Disorder, to Anne Scott at Samhain!
Phoebe Sparks, writer of Improving Tales for children, has vowed never to marry again unless she's sure it won't turn into a bickering, resentful mess like her first marriage. The Honorable Nick Dymond has vowed never to get involved in his family's politicking. But Nick's mother couldn't care less about their vows. Nick has moped long enough about his curtailed army career and new limp, and any local resident who marries Phoebe will be legally entitled to a vote in her small town's upcoming Parliamentary election. So Nick's mother packs him off to the country with strict instructions to marry Phoebe off to the first local supporter of their political party he can find. When disaster strikes Phoebe's teenage sister, Phoebe is forced to consider selling her vote—and her hand—but as election intrigue grows darker, she has to admit that what she really wants is Nick.
Yay! I really love this book and I can't wait to share it with everyone. (No release date yet, but it looks like it will be out sometime in early 2014.)
More details coming soon!
(If you haven't been on the site before/in a while, my blog was hacked last fall and we've just got it up and running again. I've got lots of weird historical facts saved up so watch this space for that and a new contest!)
ETA: This contest is closed.
Tessa Dare's third Spindle Cove book, A Lady by Midnight, is out this week, so I thought it would be a good time to give away the first two books in the series!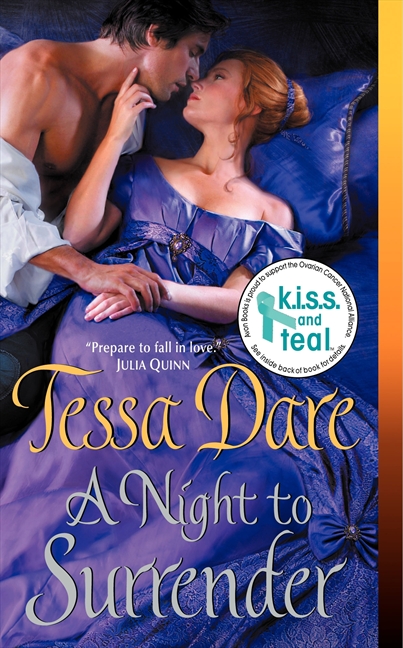 Book 1: A Night to Surrender. Spindle Cove is Susanna Finch's brainchild: a community for troubled women, where they can be free to be themselves without having to worry about men.
Here in Spindle Cove, young ladies enjoy a wholesome, improving atmosphere." Susanna indicated a knot of ladies clustered by the hearth, industriously engaged in needlework. "See? The picture of good health and genteel refinement."

In unison, the young ladies looked up from their work and smiled placid, demure smiles.

Excellent. She gave them an approving nod.

Ordinarily, the ladies of Spindle Cove would never waste such a beautiful afternoon stitching indoors. They would be rambling the countryside, or sea bathing in the cove, or climbing the bluffs. But on days like these, when new visitors came to the village, everyone understood some pretense at propriety was necessary.
But when the government decides Spindle Cove could be a target for a landing by Napoleon's forces, Victor Bramwell is sent to organize a militia. Suddenly Spindle Cove is full of men, and Susanna's peaceful community is at risk.
What I love most about this book is that the hero is an alpha…and so is the heroine. Watching them fight and maneuver and flirt to come out on top as the chief authority in Spindle Cove is incredibly awesome! (And sexy…) Plus there's lots of heartwrenching family drama and a fantastic cast of minor characters (out of which I hope to see many more books!).
But even more than A Night to Surrender, I love: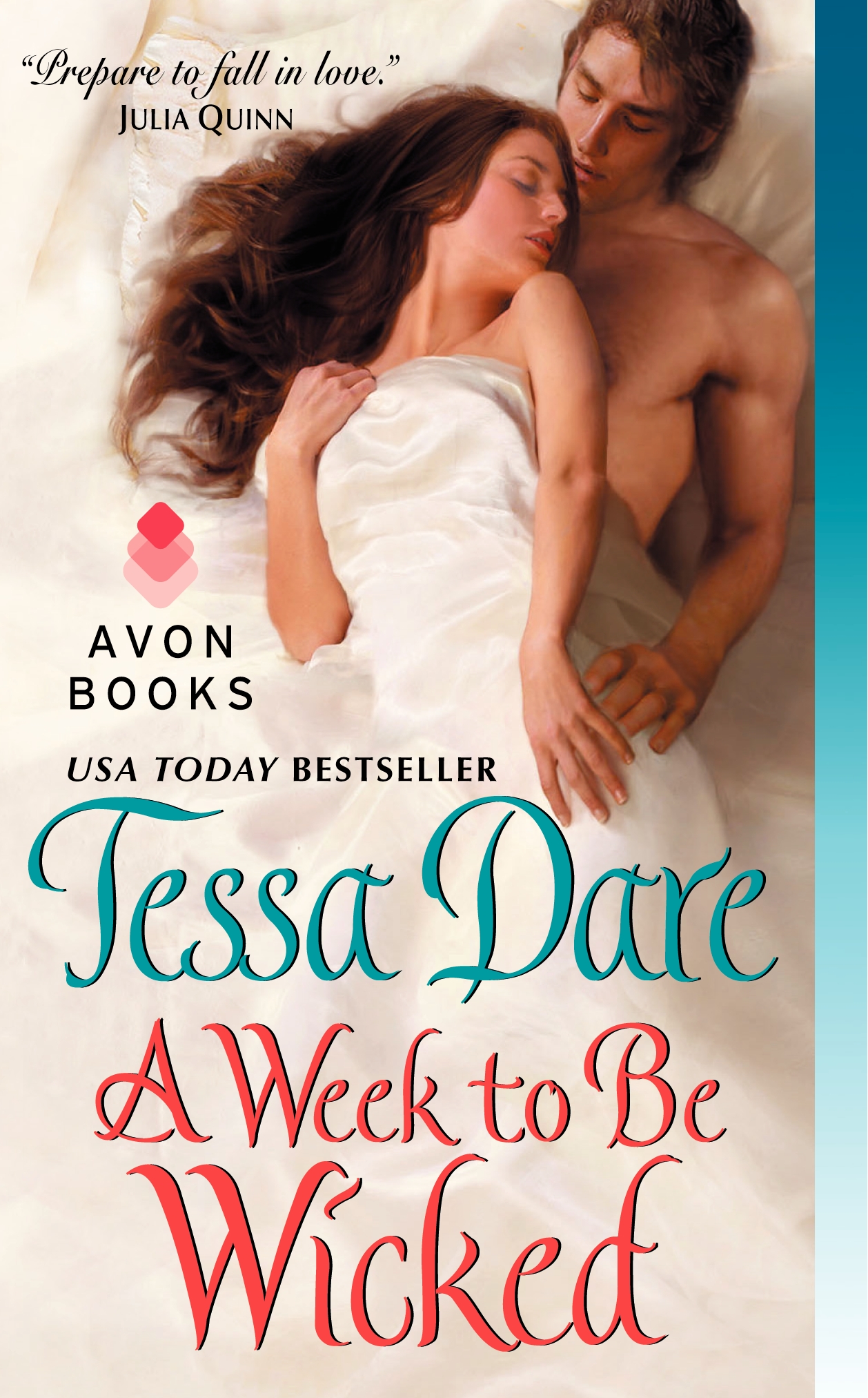 Book 2: A Week to Be Wicked. And this one's signed by the author!
Geologist and spinster Miranda Highwood wants two things: keep rake Colin Sandhurst away from her sister, and get to Edinburgh in time to present at a scientific conference. She decides to kill two birds with one stone and talks Colin into pretending to elope with her to Scotland.
This book contains so many of my favorite things, I don't even know where to start: geek heroines, fossils, a rake who's a rake because he can't sleep when he's alone in the bed (seriously, one of my favorite tropes EVER), a roadtrip, making up exciting fake identities together, making out "just to see what it's like"…the list goes on. Miranda and Colin are both so precious and heartbreaking and I love them madly.
Just comment on this post to enter, and make sure you enter your e-mail address on the comment form–it won't show up to other commenters, but I'll get it and then I can easily notify you of your win. As always, if you want to be alerted when a new contest goes up, I recommend signing up for my newsletter.
NB: I got AWtBW signed at the RWA National Conference. Ms. Dare isn't involved in the giveaway and the book isn't personalized. So if you want to tell her how much you loved her books, this isn't the place. That would be her website. (But this IS the place to tell ME how much you loved it!)
New History Hoydens post up! Part 1 of 2, excerpts from James Hardy Vaux's 1819 Dictionary of the Flash Language (i.e. criminal slang).
BEST: to get your money at the best, signifies to live by dishonest or fraudulent practices, without labour or industry, according to the general acceptation of the latter word; but, certainly, no persons have more occasion to be industrious, and in a state of perpetual action than cross-coves [criminals, as opposed to square-coves, honest men]; and experience has proved, when too late, to many of them, that honesty is the best policy; and consequently, that the above phrase is by no means à-propos.
New History Hoydens post up on some interesting UK Parliamentary traditions, including: the mace, the House of Commons snuff-box, and my personal favorite, the House of Commons opera hat! Yes, I know they don't use the opera hat anymore, but they DID until 1998.
(Longtime readers may recognize the post as a revised and illustrated version of this one…in which case I will be extremely flattered that you remembered it!)
History Hoydens post up on the London Customs House fire of 1814! The fire destroyed not only the Customs House and all the records of the Revenue Service (including the irreplaceable notebooks kept by revenue officers stationed all over England), but also many of the surrounding buildings—partly because a rumor started that there were barrels of gunpowder stored in the building and the firemen refused to get near it…
Come and tell me about your favorite disaster!
New History Hoydens post up! The 1808 Stronsay sea monster, which washed up on the beach in Orkney. Eyewitness testimony, snobbery, cryptozoology, and Lord Byron!